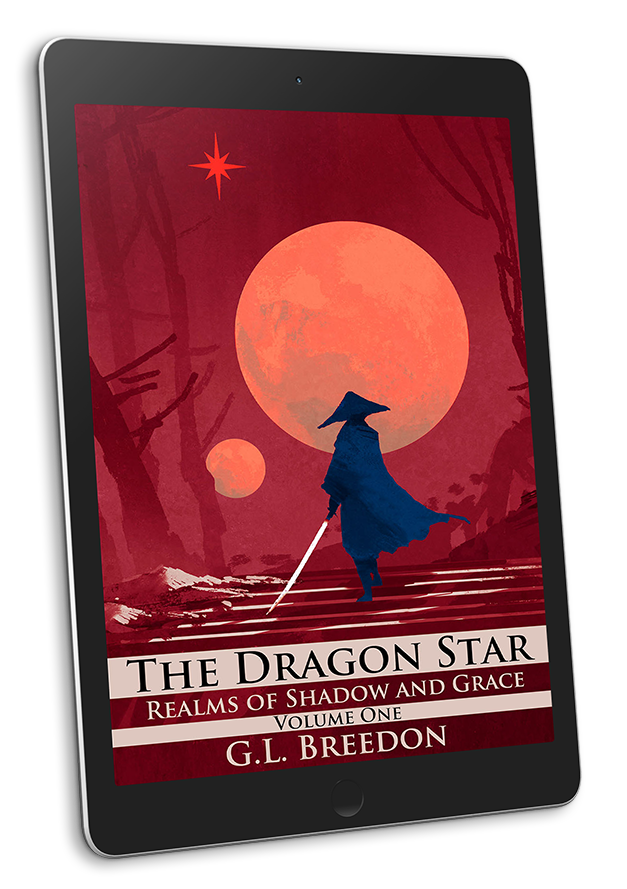 The Dragon Star
(Realms of Shadow
and Grace: Volume 1
Episodes 1-7)

FREE SAMPLE!
The Dragon Star
(Episodes 1-3 of 7)
AN EPIC STORY OF MAGIC, LOVE, AND WAR
A blood-red star blazes to life in a crow-black sky.
Junari, a devout temple priestess, wakes sweating from a dream. A dream foretelling the birth of a new star and a new goddess. A dream shared by thousands each night across the war-torn Iron Realm.
With the new star in the night sky, and the new goddess's words tumbling from her mouth, Junari abandons her temple and her faith. Now she leads a pilgrimage of dreamers and believers past bandits and heretic-hunting militiamen toward the Forbidden Realm — where the dreams say the goddess will appear.
Soon her life and story are intertwined with six other exceptional people whose worlds are thrust into turmoil by the new goddess:
A young princess hunted by soldiers striving to kill her for her powers.
The leader of a carnival trapped in a castle under siege.
A prince-turned-priest stalked by assassins.
A powerful seer fleeing for her life with an indecipherable book.
A brilliant philosopher investigating a stolen ancient artifact.
An old man who cannot die and who awakens each day in a new place.
Will the goddess await them in the Forbidden Realm? Will she set them free? Or will she shatter the world as she does in the dreams?
What Reviewers Say:
"The writing is beautiful, and although there are a lot of characters, I found them to be unique and fully created. This is a well-crafted book and one I will not easily forget. I recommend this book!"
— Air Global Radio Network Book Reviews
"The character and world building are exceptional, as you would expect from G.L. Breedon. With a common concept but individual tales, The Dragon Star Volume One is an enticing read…Definitely recommended if you want a brilliant epic fantasy with a bit more reader interaction."
— Merissa: Archaeolibrarian –
I Dig Good Books!