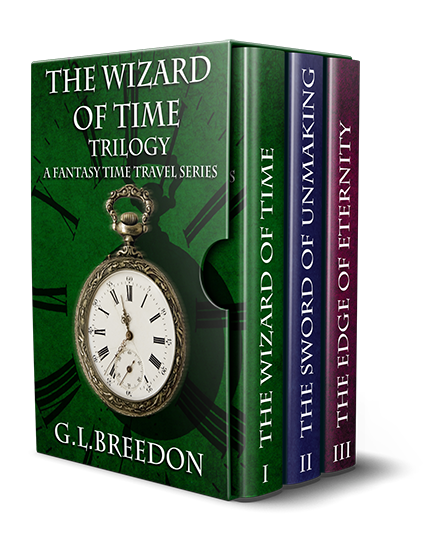 The Sword of Unmaking
Shortly after Gabriel and the Chimera team return from a near-disastrous extraction mission to save a mage in ancient Vienna, the battlefield comes to Windsor Castle.
The Edge of Eternity
When the fate of the entire continuum is threatened by the plans of malignant mages, Gabriel must figure out how to protect the girl he loves while defending the timeline of history from utter destruction.
The Wizard of Time Trilogy Contains the Following Books:
The Wizard of Time (Book 1)
The Sword of Unmaking (Book 2)
The Edge of Eternity (Book 3)
The Wizard of Time Trilogy

An Epic Time Travel Fantasy Adventure
Gabriel's dreams always come true. Then he dreams of drowning. That is when his adventure through time begins.
Plucked from the timeline of history at the moment of his death, 13-year-old Gabriel Salvador awakens in a castle millions of years in the past. Saved because of his ability to sense the flow of time, he mourns the loss of the family who thinks he is dead as he trains to become an apprentice time mage.
When a mission to stop the creation of an alternate reality fails, Gabriel is revealed as the Seventh True Mage, able to use all six forms of magic. Soon, he is hunted by three dark mages who hope to use him to rule the whole of the Primary Continuum.
From the Aztec temples of 1487 to Scotland in the Middle Ages and the battlefields of Alexander the Great, Gabriel struggles to adapt to his terrifying new life and master the different magics. Can he fulfill the responsibility of being the Seventh True Mage as he joins the battle to protect the timeline of history?
 "If you like Harry Potter, you should love this."
— Tahlia Newland: Author, Reviewer
"When I started this book, I hoped for the impossible, and what I got was pure brilliance."
— Elizabeth Marshall: Author, Reviewer
Don't have a kindle? Follow this link for other options.
For some background information about the real Windsor Castle take a look at this page.
To check out some fun lists of time travel short stories, novels, and books, take a look at this page.
THE WIZARD OF TIME – STORY SPLASHES
---