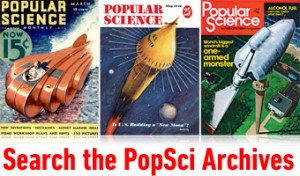 I came across this site the other day. Popular Science Magazine has partnered with Google to create a searchable archive of all their back issues.
When I was a kid, about 12 I guess, I discovered a large box of my grandfather's old Popular Science and Popular Mechanics magazines on the basement. I spent hours and hours paging through the old magazines, reading the articles about inventions that never came to be and others that that did, but which I hardly recognized. I particularly loved the ads. How to patent your invention. How to have a body like Mr. Atlas. How to learn basic electronics in a week.
Now I can enjoy paging through every single issue of Popular Science with their search function. It's not very sophisticated yet. You have to do a manual search for everything, or for specific issues or years. But it's great fun.