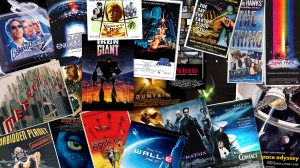 The next few weeks will be devoted to exploring  my 20 Favorite Sci-Fi Films. I had intended to blog about my favorite 10 sci-fi films, but when I started making a list it quickly exceeded 40 films before I could stop myself. After repeated attempts, I could not get the list down to just 10. So, I settled on 20, in no particular order. I'll be posting one or two each day for the next several days. I had planned to post five or more at a time, but as I started to write about them, I realized I had more to say than I'd expected.
I'm looking forward to this exercise. Some of these films I have watched recently, and others I haven't seen for a few years. I've seen all of them at least twice and most at least four times. A few I have seen far more than four times.
In explaining why the films have made my list there are a few criteria I'll be using. 1) What is the feeling I have when I think about the film – what is the lasting emotional impact if the film. 2) What did I like about the film from an intellectual perspective. This is sci-fi after all. In my opinion, it should have some kind of intellectual value. 3) What did I like about the film from a creative and technical perspective? What about the writing, directing, acting, cinematography, and special effect sticks with me over time? 4) What is the key scene, image, or idea that leaps to mind when think of the film.
I won't list them out, but the poster collage I made above has them all.