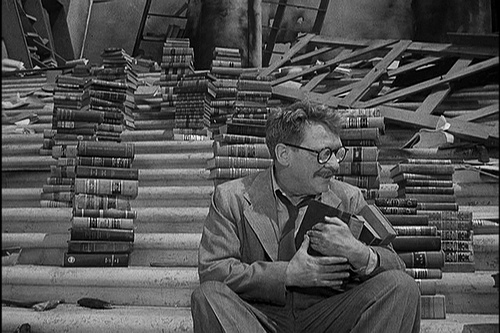 Been too busy for blogging of late. The day job ate up too much time and I'd much prefer to spend the remaining time with my wife or editing The Pilgrim Star than writing a blog. The editing is going far slower than I'd hoped. With the holidays and the workload of the last job, I have hardly managed any editing in December and January. However, Episode 1 is done and I'm halfway through editing episode 2. I had hoped to have the novel out this summer, but I now think I'll be lucky to get it out by September or October. But, I'm fine with that. I'd rather take my time and be completely satisfied with the result than rush to meet an arbitrary deadline.
I'm hoping the workload of the current job will allow time for blogging and writing. I have a little thought experiment I think would make a good series of blog posts.
A few months ago I came across an article about The Long Now Foundation and the Manual for Civilization library they are creating:
The Manual for Civilization is a crowd-curated collection of the 3500 books you would most want to sustain or rebuild civilization. It is also the library at The Interval, with about 1000 books on shelves floor-to-ceiling throughout the space. We are about a third of the way done with compiling the list and acquiring selected the titles.

We have a set of four categories to guide selections:
Cultural Canon: Great works of literature, nonfiction, poetry, philosophy, etc
Mechanics of Civilization: Technical knowledge, to build and understand things
Rigorous Science Fiction: Speculative stories about potential futures
Long-term Thinking, Futurism, and relevant history (Books on how to think about the future that may include surveys of the past)
There are already several lists of book from well-known writers to add to the library.
Reading the lists, I became possessed of the desire to create my own list of books to rebuild civilization after some unspecified apocalypse. I've decided to limit the number of books on my list to 100. 100 Actual books that you could go and buy and bury in your backyard. About what you can easily store in a well-sealed oil drum. And while I've reduced the number of books on my list, I've expanded the number of categories. They are:
100 Books to Rebuild Civilization in 10 Categories of 10 Books Each
Science
Reference
Practical Living
History
Art
Religion
Literature
Drama
Poetry
Philosophy
The plan is to devote one blog to each section of suggested books with explanations for why I selected each one. A list like this is inevitably a personal projection of preferences and fears. What do I value? What do I think should be the basis for rebuilding a civilization from scratch? What do I think constitutes civilization? What books do I know well enough to suggest? I noticed that some the books lists for the Manual of Civilization library read more like lists of personal favorites than serious lists of what a future people trying to rebuild a world civilization from the ashes might need to read. I'm planning on making my lists as practical as possible, but personal quirks will naturally them questionable in some sections.
It's a fun thought experiment that I can work on as time allows between the day job and editing the novel. I'll post the first one soon.