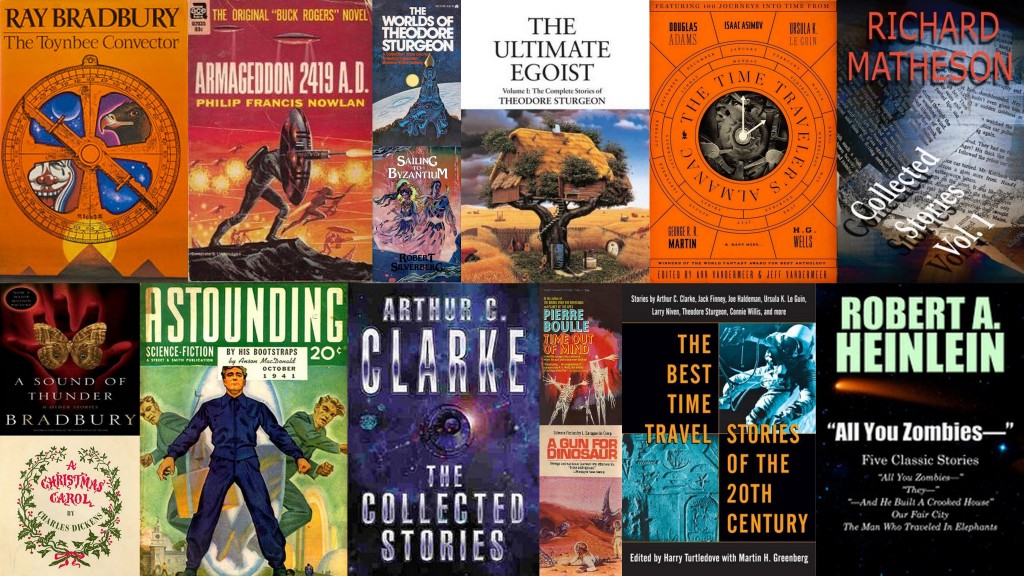 Famous Time Travel Short Stories 
In anticipation of the impending release of the third and final Wizard of Time novel (The Edge of Eternity) I thought it would be fun and informative to post a few helpful lists of famous time travel short stories, novels, books, art, TV Shows, and films.
Below is a short list of some of the most famous time travel short stories.
A Christmas Carol, Charles Dickens, 1843
Armageddon 2419 A.D. by Philip Francis Nowlan, 1928
By His Bootstraps, Robert A. Heinlein, 1941
Yesterday was Monday by Theodore Sturgeon, 1941
Time's Arrow by Arthur C. Clarke, 1950
A Sound of Thunder by Ray Bradbury, 1952
Death Ship by Richard Matheson, 1953
A Gun for Dinosaur by L. Sprague de Camp, 1956
All You Zombiesby Robert Heinlein, 1959
Rainbird by R.A. Lafferty, 1961
Time Out Of Mind by Pierre Boulle, 1974
Sailing to Byzantium by Robert Silverberg, 1984
The Toynbee Convector by Ray Bradbury, 1984
There are tons more great time travel stories. These are only a few. For those interested in reading time travel short stories there is a new collection out called The Time Traveler's Almanac. There is also the collection The Best Time Travel Stories of the 20th Century.  For those who are more budget conscious there is also a bargain collection of time travel stories on ebook: The Time Travel Megapack: 26 Modern and Classic Science Fiction Stories.