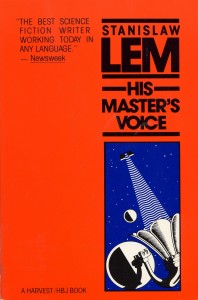 Today would be the 90th birthday of master Polish sci-fi withor Stanislaw Lem. Born September 12th, 1921, he passed away March 27th, 2006.
While Lem is probably most famous for writing the source novel to Andrei Tarkovski's film Solaris, my first introduction to his work was His Master's Voice, which I read for a sci-fi literature course taught by Eric Rabkin at the University of Michigan. It's a novel that still sticks with me twenty years later. It's the story of what happens when a message from the stars is received and how it impacts the lives of the scientists who are tasked with secretly decoding it. I remember that it opened my mind to what sci-fi could be. To me it wasn't science fiction, it was philosophical fiction, and deeply fascinating. I need to reread it now that I've read more philosophy. I wonder if it will leave me with the same impression. After I reread Heinlein's Stranger in a Strange Land, I was a bit disappointed, as I had grown in depth, while the story hadn't.
Another interesting novel is The Futurologial Congress. I won't even bother trying to explain its wild, fever dream plot.