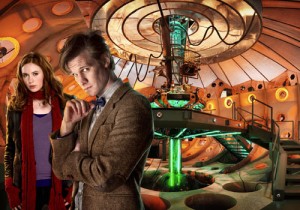 I don't know who's "genius" idea it was to break up this year's Dr. Who season into two parts, with six epodes at the start of summer and the rest in the Autumn, but I don't see the logic. Not only am I deprived of fun summer sci-fi entertainment, but the BBC will have to spend more ad money to promote the series again for the second half. And on top of that they say that Dr. Who won't be back for a full season next year. What is it with the BBC?
I've been enjoying the new season of Dr. Who. I like Matt Smith as the new Doctor. It's hard to follow David Tennant, but I really enjoy his wild interpretation. I love Amy Pond, but I haven't really seen the need for Rory.  It's a such a weak character compared to Amy. River Song on the other hand is great. Finally, someone who is more than a match for the Doctor. And a long-term love interest. From his future. Very fun.
But why oh why must I wait four months to see who shot the Doctor?  (Momentary flashback to watching Dallas as a kid – hope there are no dream sequence seasons coming).
At least I have a new season of Torchwood to enjoy.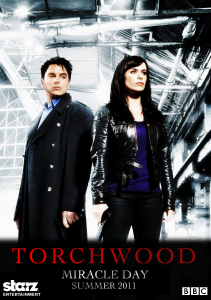 I hope.
I have seen the first two episodes of Torchwood: Miracle Day (Season 4). The good news is that Jack and Gwen are back. The bad news is that there is not nearly enough of Jack and Gwen on screen. The move to the US seems to have necessitated adding a number of other characters outside what is left of the Torchwood team. This is both good and bad. Good, in that the team needs a few new members, and bad in that it seems to be taking a while for these new characters to come together.
I liked the first episode, but the second seemed to lack focus for me. Like it is really a set up for the next few episodes. Hopefully that is the case.
I'm also not trilled with the new characters. Or the actors that play that. Bill Pullman is far and a way the best American actor. Mekhi Phifer feels over the top as the CIA agent who manages to yank Jack and Gwen back to the US via rendition. Alexa Havins has the right blend of perky and persistent as CIA analyst Ester Drummond, but I haven't been finding Arlene Tur convincing as Dr. Vera Juarez.
Tracking these various characters means that there is less screen time left for advancing the central questions of the plot – why is no one dying? Except for Dr. Vera, who seems to be the only character where time is spent on that question. Then there is the question of who is trying to kill Jack and eliminate Torchwood? And are the answers to those questions related?
Guess I'll have to watch and find out.