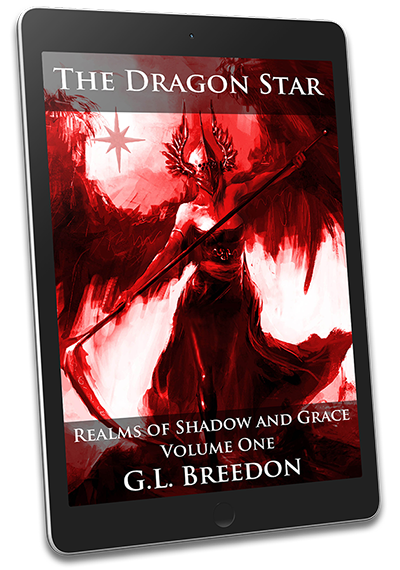 What Reviewers Say:
"The writing is beautiful, and although there are a lot of characters, I found them to be unique and fully created. This is a well-crafted book and one I will not easily forget. I recommend this book!"
— Air Global Radio Network Book Reviews
AN EPIC STORY OF MAGIC, LOVE, AND WAR
A reluctant prophet. A prince turned priest. An extraordinary young princess. A powerful seer. A brilliant philosopher. A carnival leader. And a man who cannot die.
All share the same nightly dream of the birth of a new star and a new goddess. When the new goddess's prophesied star appears in the evening sky, these seven exceptional people find their lives thrust into turmoil, forcing them to become fugitives, warriors, lovers, spies, and saviors.
With their lives irrevocably intertwined and altered, they all ask the same question: Will the goddess truly appear, and will she shatter the world as the dreams foretell?
The Dragon Star is an epic fantasy adventure with a gripping story, an intricate plot, a diverse cast of finely drawn characters, and a richly detailed world influenced by Chinese, Indian, and global history. The book includes a hyperlinked Miscellany of Fragments and Artifacts (a cultural glossary) and a hyperlinked gazetteer of the world. Additionally, the chapters of the novel are hyperlinked to allow the reader to separately follow individual story arenas as well as individual character storylines.
THE CAST OF THE DRAGON STAR:
Junari, a courageous priestess with newfound faith, becomes a reluctant prophet leading a pilgrimage of believers toward the Forbidden Realm, fighting past bandits, militias, and armies to follow the new star and the goddess who speaks through her voice.
Sao-Tauna, a brave and gifted six-year-old Tanshen princess, her resourceful tutor, Lee-Nin, and their protector Sha-Kutan, a man with unearthly powers and a mysterious past, are hunted by palace soldiers who believe the girl is a threat to the realm and must put to death.
Tin-Tsu, a prince and devout warrior-priest, unwillingly assumes the throne of the Daeshen Dominion after his brother's death as unseen enemies within the palace attempt to end his nascent rule by ending his life.
Kellatra, a powerful seer with a secret past from the City of Leaves, flees her home with her family and an indecipherable lost book, hoping to escape the magical creatures who will kill her and her loved ones to possess it.
Sketkee, a brilliant reptilian philosopher from the Sun Realm, races to recover a stolen ancient artifact that may reveal crucial knowledge about the urris — the elusive magical creatures who have proscribed access to the Forbidden Realm for thousands of years.
Leotin, the world-weary leader of a traveling carnival, enlists the protection of a trio of non-human outlanders from other realms as he fights to keep his people alive while trapped in a castle under siege by a fanatical militia.
And Ondromead, a man who cannot die, awakens each morning in a new place to behold events he cannot fathom, such as a shy, young boy named Hashel, whose traumas leave him speechless, but who sings songs not heard for a thousand years.
Available Now:
Amazon US
Amazon UK